Centrosaurus
Talk

0
510pages on
this wiki
Centrosaurus, meaning 'pointed lizard', was a Late Cretaceous ceratopsian, and lived about 75 million years ago. Unlike Triceratops, it only had one horn, and this was 50cm long.
Fact File
Edit
Length: 6 metres (20 feet)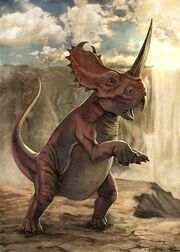 Height: ?
Weight: 3 tonnes
Diet: Herbivorous
Centrosaurus was a herbivore. It used its beak to snap off tough twigs and plant matter, then it chewed the food in the back of the mouth.It had teeth in the back of the mouth.