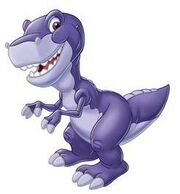 Chomper
, voiced by
Rob Paulsen
(II),
Cannon Young
(V), and
Max Burkholder
(TV series) is a young
purple
Tyrannosaurus
, which is one of many species of carnivorous dinosaurs called
Sharpteeth
in the series. He appears as a baby in
The Land Before Time II: The Great Valley Adventure
, hatching from an egg, whom Littlefoot and the others attempt to raise. But his parents appear and he leaves with them, still holding the other children as friends. In
The Land Before Time V: The Mysterious Island
, he has grown older and can talk. He is bilingual, speaking both the language of the herbivorous dinosaurs and the language of the carnivorous dinosaurs, apparently because he was raised first by Littlefoot, and later his sharptooth parents. He returns as a regular character in the TV series, apparently living in secret in the mountain caves surrounding the Great Valley, along with Ruby, who acts like his sister, in order to escape Red Claw, a sharptooth who is terrorizing the Mysterious Island.
Ad blocker interference detected!
Wikia is a free-to-use site that makes money from advertising. We have a modified experience for viewers using ad blockers

Wikia is not accessible if you've made further modifications. Remove the custom ad blocker rule(s) and the page will load as expected.