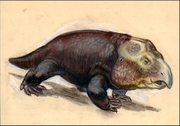 Kannemeyeria
was a large
dicynodont
of the family
Kannemeyeriidae
, one of the first representatives of the family, and hence one of the first large
herbivores
of the
Triassic
. It lived during the later Early and early Middle part of the
Triassic period
(from the late
Olenekian
to the Middle
Anisian
age).
Description
Kannemeyeria was about 3 m (10 ft) in length, about the size of an ox. It was well-adapted to living as a herbivore; it had a powerful beak and strong jaw muscles built for shearing plant material. Although it had a large head, it was lightweight due to the size of the eye sockets and nasal cavity. It also had limb girdles which formed massive plates of bone that helped support its heavily built body.[1]
Distribution
Various species of the genus Kannemeyeria are known from South Africa, Argentina, India, and (either this or a similar genus) China, and it can be assumed that, like many animals of this time, it had worldwide distribution.
See also
References
Ad blocker interference detected!
Wikia is a free-to-use site that makes money from advertising. We have a modified experience for viewers using ad blockers

Wikia is not accessible if you've made further modifications. Remove the custom ad blocker rule(s) and the page will load as expected.