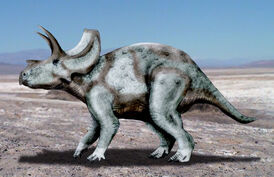 Ojoceratops
is a
genus
of
ceratopsian
dinosaur
which lived in what is now
New Mexico
,
United States
.
Ojoceratops
fossils have been recovered from strata of the
Ojo Alamo Formation
(Naashoibito Member), dating to the late
Cretaceous
period (probably Maastrichtian age, 68 million years ago
[1]
). The
type species
is
Ojoceratops fowleri
. It is very similar to its close relative
Triceratops
, though it is from an earlier time period and has a more squared-off frill.
[2]
Nick Longrich, in 2011, noted that the squared-off frill is also found in some true
Triceratops
specimens and that
Ojoceratops
is probably a junior synonym of
Triceratops
,
[3]
while Holtz (2010) noted that it is probably ancestral to
Triceratops
and possibly synonymous with the contemporary
Eotriceratops
.
[4]
Cite error: <ref> tags exist, but no <references/> tag was found
Ad blocker interference detected!
Wikia is a free-to-use site that makes money from advertising. We have a modified experience for viewers using ad blockers

Wikia is not accessible if you've made further modifications. Remove the custom ad blocker rule(s) and the page will load as expected.